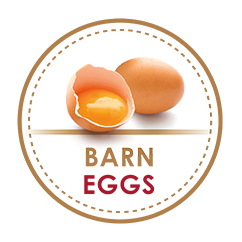 Our Pandoro with a lemon cream filling is a sweet, naturally leavened baked product, made using our traditional recipe and free from genetically modified ingredients.
A packet of icing sugar is included in the weight.
Ingredients
wheat flour - fresh eggs* - sugar - lemon cream filling 15% (sugar - water - glucose syrup - sunflower seed oil - dried skimmed milk - egg* yolk - lemon infusion 2% corresponding to 0.3% of the total ingredients - thickener: pectine - flavourings - preservative: potassium sorbate) - butter - natural yeast (wheat flour - water - yeast) - emulsifiers: mono and diglycerides of fatty acids - salt - dried skimmed milk - natural flavouring.
*Barn eggs.
May contain tree nuts, peanuts and soya.
Icing sugar pouch 3% (sugar - wheat starch - flavourings).
The highlighted ingredients can cause reactions in allergic or intolerant subjects.
Keep in a cold and dry place.