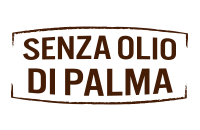 Our Cruschelle Cereal do not contain palm oil, any additives, colourings or hydrogenated fats, and are free from genetically modified ingredients.
Ingredients
oat flakes 36,3% - wheat flour 27,2% - vegetable margarine (palm oil - water) - sugar - fine bran (from wheat) 9,1% - glucose syrup - raising agents: ammonium hydrogen carbonate, sodium hydrogen carbonate - salt - wheat starch - flavouring.
May contain traces of tree nuts, peanuts, soy, eggs and milk.
The highlighted ingredients can cause reactions in allergic or intolerant subjects.
Keep in a cool and dry place.