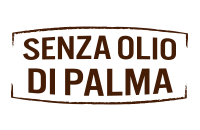 Our Vita Mia biscuits do not contain: palm oil, additives, colourings, hydrogenated fats and genetically modified ingredients.
* Contains only the sugars naturally present in the barley malt.
Ingredients
wheat flour - sweeteners (maltitol - maltitol syrup) - sunflower seed oil - chocolate chips with sweeteners 13,6% (sweetener: maltitol - cocoa mass - emulsifier: soya lecithin - cocoa powder - natural vanilla flavour) - raising agents (ammonium hydrogen carbonate - sodium hydrogen carbonate - monopotassium tartrate) - malted barley extract - flavourings - salt - emulsifier: soya lecithin.
May contain tree nuts, peanuts, milk and eggs.
The highlighted ingredients can cause reactions in allergic or intolerant subjects.
Keep in a cool and dry place.
Excessive consumption may induce laxative effects.