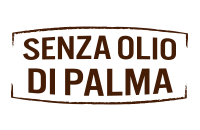 Our Vita Mia! biscuits do not contain palm oil, any additives, colourings or hydrogenated fats, and are free from genetically modified ingredients.
With 70% less saturates fat than the average fat content of the best-selling shortbread biscuits on the market*
* Source: AIDEPI, for more info: http://www.aidepi.it/claims-comparativi
Ingredients
wheat flour - sugar - sunflower seed oil - extruded rice 6,3% (rice flour 91% - sugar - malted barley extract - salt) - red fruits concentrated puree 4,2% (blackberries puree 25%, raspberry puree 13%, blueberries puree 13% - fructose syrup-glucose - humectant: glycerol - sugar - oats fibre - gelling agent: pectin - natural flavours) - glucose syrup - vegetable fibre (pea) - raising agents (ammonium hydrogen carbonate - sodium hydrogen carbonate - monopotassium tartrate) - salt - flavourings - emulsifier: soya lecithin.
May contain milk, eggs, tree nuts and peanuts.
The highlighted ingredients can cause reactions in allergic or intolerant subjects.
Keep in a cool and dry place.
Excessive consumption may induce laxative effects.